Wayne's Bio
"You're a chameleon, you can sing anything you want" - words expressed to describe Wayne Free. Primarily a vocalist, Wayne is also a multi instrumentalist, producer, studio engineer, song writer and arranger with experience and influence from a wide scope of musical styles and forms.
Now a resident of North Carolina, Wayne is a native of Ware Shoals, SC where he discovered his love of music at a very early age. His Dad had several country music bands that would practice in their home each week which led to his passion. Watching the musicians play and his father sing, Wayne knew then that someday he wanted to explore the world of music. He found himself in love with the album 'Elvis: Aloha from Hawaii' and from this learned to sing. He would never look back.
As a seventh grader, he began his formal education in music. His first instrument was the trumpet where he won the school bands MVP award. The next school year would find him at a new school in a new band playing a new instrument - the french horn. This instrument would afford him a college education on a full music scholarship at Lander University. During this time, Wayne would discover his love of acting and musicals in the local youth community theatre receiving accolades for his leading role in 'You're a Good Man Charlie Brown'. "Wayne Free is the oldest of the troop but has a maturity in his voice well beyond his years. A surprising pleasure" - The Index Journal. 
While attending Lander University, he joined the storied and popular touring act The Swingin' Medallions (Double Shot of My Baby's Love) as a trombonist. He would remain a full-time student while touring with the group weekly. It was here that he cut his teeth in the music business while studying to be an educator with a focus on french horn performance. Wayne felt an immediate passion for writing live band arrangements, live performance, R&B and soul music, song writing and singing.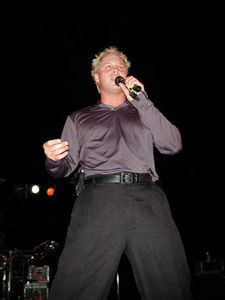 As a member of the Swingin' Medallions, Wayne experienced many career firsts such as performing in Maui, Hawaii for the Honda corporation. In 1998 he performed at the Fed-Ex Orange Bowl pre-game show on the BET stage. Under the sponsorship of Coors Brewing company, Wayne performed at Caesars Palace in Las Vegas for their annual convention in 1999. The Medallions would also perform at Sun Fest in West Palm Beach, Florida opening for the B-52's and Kool and the Gang. In 2001, Wayne and The Medallions sang the National Anthem prior to a televised MLB game for The Tampa Bay Devil Rays and performed the seventh inning stretch traditional psalm 'Take Me Out to The Ballgame'. They were also invited to perform the National Anthem for AFL's Georgia Force. He cruised to Cozumel with NASCAR legend Sterling Marlin and Coors Light following the 2002 NASCAR season. In 2004, The Medallions were featured during the half time show of the Gator Bowl performing two hit Medallions recordings along with several top marching squads. The Medallions would also travel to Bermuda, Texas, Mississippi, Tennessee, California, Washington State as well as D.C. and all points in between performing for private and corporate functions, town festivals, college frats and more before crowds of all sizes and ages. 
During these years of learning the road and the stage, Wayne would become involved with the design, assembly and birth of Medallions Studios, Inc. where he would learn the art of song writing, studio production and recording. Wayne quickly rose to MIDI and audio studio engineer recording and creating tracks for clients ranging from Gospel to Rap. He would also learn the art of digital editing, multi-track recording, various recording technics and producing that continues to serve him in his career to this day. Wayne tracked, engineered, mixed and produced innumerable tracks for a diverse collection of outside clients as well as the Medallions from concept to completion.
In June of 2004, Wayne retired from The Medallions and moved to Charlotte, NC. It was at this time he had left music completely looking for a fresh start. Not having music in his life would quickly prove insufferable. By chance, Wayne earned a live audition with the super group The Embers of Raleigh, NC before a crowd of more than 3,000 without a single rehearsal. He would join the group in September.
As a member of the Embers, Wayne evolved into a band leader, lead singer and musical coordinator striving to make himself invaluable to the organization. The Embers were founded in 1958 and Wayne led the charge for carrying on the groups tradition of top quality showmanship and professionalism. He dealt with the day to day operations of running the group from writing the shows to managing the road crew to driving and maintaining the band tour bus. Wayne further grew as an entertainer fronting this internationally renowned group. The style and quality of the music presented by The Embers conditioned him into a seasoned performer with tireless onstage character, energy and style all his own. 
Wayne traveled abroad to South Korea in December of 2007 and 2008 to perform 'Christmas with The Embers' for America's troops on military bases throughout the region. In 2007, Wayne recorded his first album with The Embers, The Show Must Go On, at the Manhattan Center in Studio 4 in New York City. The albums first release, 'The Last Time I'm Saying Goodbye', charted at #4 on the SoulWalking Charts in the UK. Following the release, Wayne represented the Embers at a private gala performing songs from the album for the east coast chapter of the Society of Singers also in New York City. The group performed the National Anthem for the Women's NCAA Soccer Championship in 2008. In 2010, Wayne led the band in performing the National Anthem for The Meineke Car Care Bowl at Bank of America Stadium in Charlotte, NC. The same year saw him perform 'Never Give Up', a featured cut from 'The Show Must Go On' album, at the Kaye Yow Hoops 4 Hope Halftime Show at NC State University for thousands of breast cancer survivors and fans. Wayne wrote and coordinated standard dance and holiday shows for The Embers. He most recently performed on and produced several new singles for The Embers released in 2012 intended for a future album release.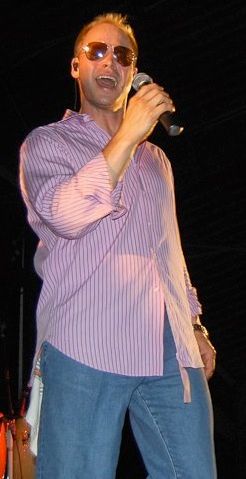 Wayne parted ways with the Embers in 2014 to form his own group and to pursue a solo career. He is also getting back to his love for song writing and creating music focusing more on his own solo performance. He is currently developing his solo act to accompany his multifaceted voice. Wayne has his own private studio dubbed PresJax Music House where he operates the latest version of the industry standard Pro Tools recording software. He accepts clients privately demanding a wide range of services from vinyl conversion to song mastering. Wayne has engineered and produced numerous projects for clients from his studio. He is also known for his digital editing work and the flexible, easy going studio atmosphere in which he creates. 
Tireless and dedicated, experienced, professional and a set apart from all others - if you ever see him perform you'll undoubtedly become a fan and friend and will definitely make it a point to see him again!
***THIS BIO TO BE UPDATED SOON...